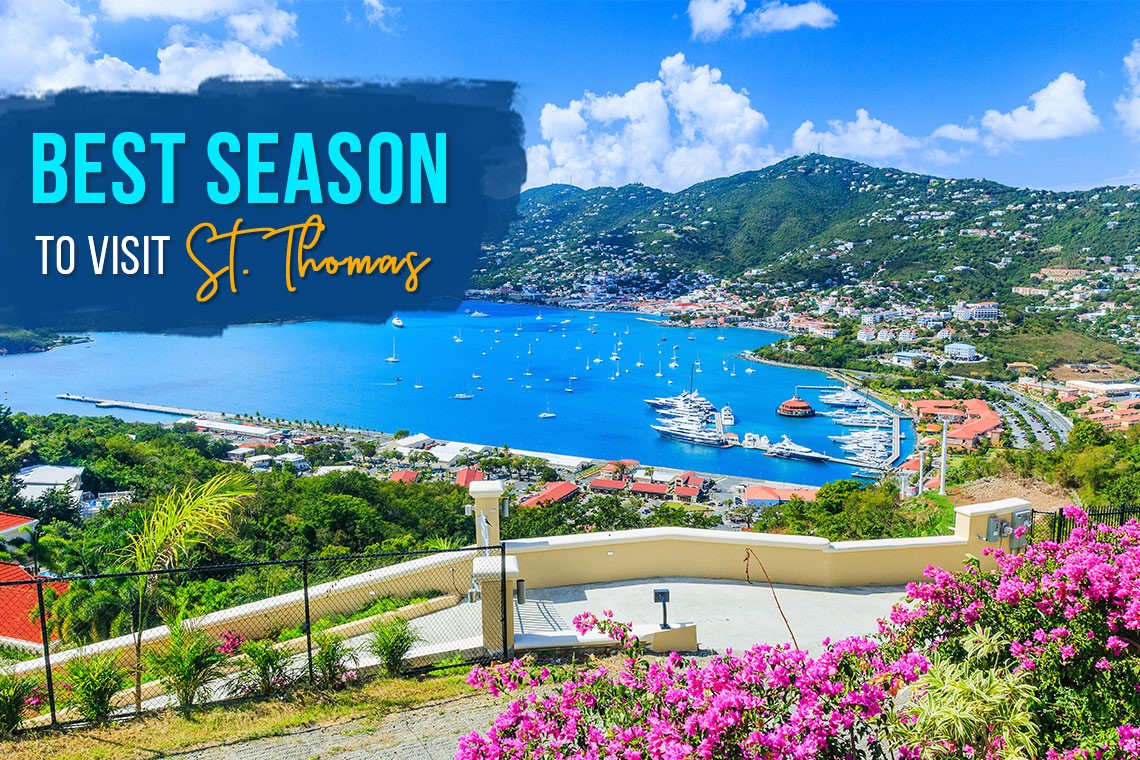 Best Season To Visit St. Thomas
St. Thomas is one of the most stunning Caribbean islands. With its beautiful beaches, unique culture, crystal clear waters, lush-green jungles, and breathtaking scenery, it's no surprise that St. Thomas has something for everyone to offer.
But when is the ideal time to visit this tropical paradise? Let's look at what St. Thomas tour offers each season so you can plan the perfect trip.
1.
St. Thomas Tour In Winters
The winter months (December – February) are a great time to visit St. Thomas. Average temperatures during this season range from mid-70s to low-80s Fahrenheit with little rainfall. It is an ideal time of year for outdoor activities like swimming, snorkeling, and kayaking.
Hotel prices are usually at their highest during these months because many people flock here to escape the cold weather in their home countries. So, be sure to pack some warm clothes. Plus, winter is typically hurricane season in the Caribbean, so check weather forecasts before planning any outdoor activities.
2.
St. Thomas Tour In Spring
The spring season in St. Thomas starts from March to May. It brings slightly cooler temperatures than winter, maintaining an average temperature of around 78 degrees Fahrenheit with only occasional periods of rain throughout the day.
You can explore St. Thomas' vibrant culture through festivals such as Carnival and Mango Melee or sample local cuisine at one of its many restaurants during spring. Plus, with fewer visitors on the island during this time of year, you won't have to worry about large crowds or overpriced accommodations. However, holidays such as Easter can draw more tourists into the country, temporarily increasing prices.
3.
St. Thomas Tour In Summers
The summer months are the peak tourist season. Average temperatures during these months range from mid-80s Fahrenheit during the day and low 80s Fahrenheit at night. Most water sports enthusiasts visit in the summer for a great surfing experience. Some of them come for windsurfing or kiteboarding lessons offered by local companies.
Our Suggestion
No matter when you visit St. Thomas, you're sure to have an enjoyable experience. However, if you want optimal weather conditions without paying hundreds of bucks for your hotel stay, visiting between March and May would be your best bet!
You should expect mild temperatures without excessive rain showers or hurricane threats during these months. Hotel prices are also lower due to fewer travelers coming into town compared to other peak seasons, such as winter or summertime holidays like Independence Day or Christmas/New Year's Eve celebrations.
In A Nutshell
The perfect time to visit St. Thomas depends on your desire. Chilly weather with less crowd (winter), taking advantage of lower prices and minimal crowds (spring) or enjoying some fun water sports (summer).
In case you are searching for a private taxi, we are at your service! From air conditioning facility to comfortable seating, JS Miller Taxi and Tours make your St. Thomas tour a world-class experience.
Happy Travels!
Back To Blog