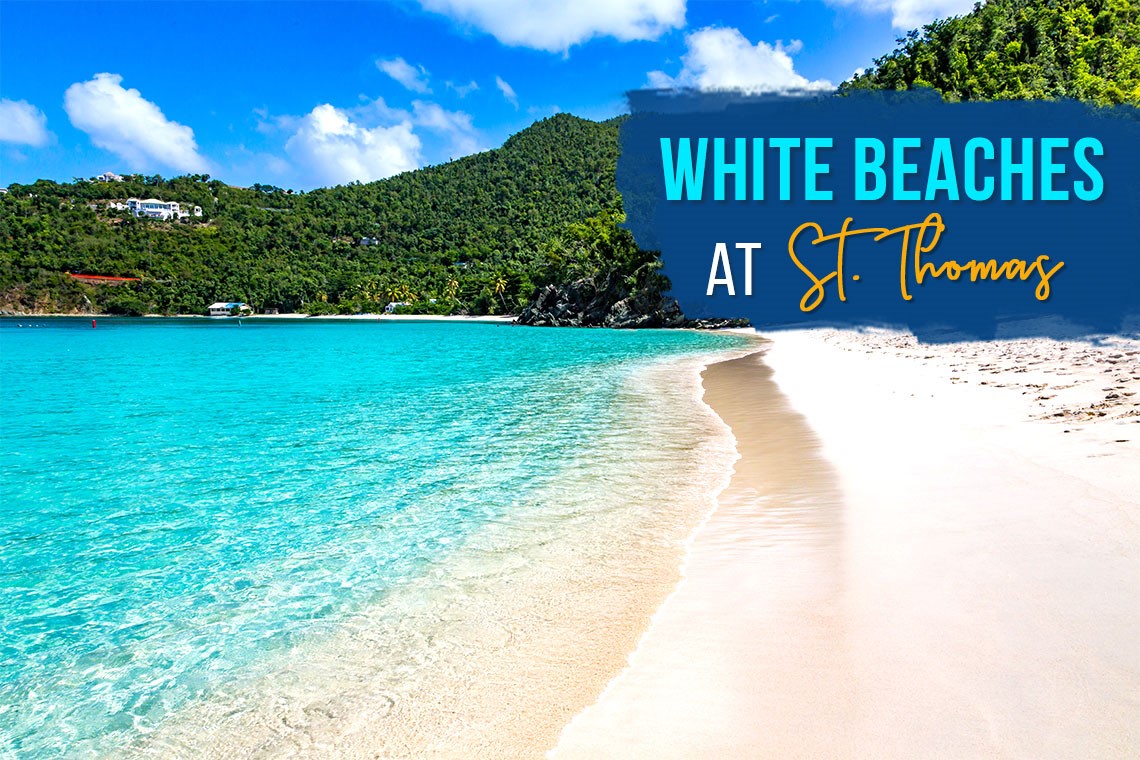 Discover White Beaches At St. Thomas
Every year, millions of families in groups or individuals flock to the Caribbean islands for a taste of paradise in the sun. With its lush rainforests, crystal clear waters, and white sandy beaches, St. Thomas is a prime destination for travelers looking for a true tropical getaway.
But did you know that miles upon miles of untouched white sand beaches are waiting there to explore?
Let's look at some of the most beautiful beaches in St. Thomas and how you can get the most out of your St. Thomas tours.
1.
Magens Bay Beach – St. Thomas Tours
The crown jewel is Magens Bay Beach, located on the North Shore of St. Thomas and easily accessible by car or St. Thomas taxi services from Charlotte Amalie (the capital city).
This one-mile-long white sand beach is surrounded by palm trees. It offers impressive views over the Caribbean Sea and its surrounding islands. The shoreline slopes gently into the sea, making it perfect for swimming, snorkeling, and other watersports activities like kayaking and paddle boarding.
There are also shaded areas where visitors can relax and enjoy a picnic lunch or take a leisurely stroll along the beachfront path.
2.
Coki Point Beach
Coki Point beach is located on the North East (Atlantic) side of St. Thomas near Red Hook. It is known as one of the best scuba diving spots on the island. Coki Point offers plenty, including crystal clear water, white sandy shores, coral reefs teeming with colorful fish, and even an underwater shipwreck that divers can explore.
For those who like to stay above water, there are plenty of food stalls selling local snacks like fresh coconut juice or fried plantains right by the beachfront parking lot. Plus, there's plenty of space for sunbathing or playing games in the sand.
If you visit during nesting season (March-August), you may even spot some sea turtles coming ashore to lay their eggs.
3.
Hull Bay Beach
Another great spot on St. Thomas is Hull Bay Beach, located just 10 minutes from downtown Charlotte Amalie via car or St. Thomas taxi service.
Hull Bay Beach features white sand beaches framed by lush greenery set against blue waters, making it an ideal spot for swimming or sunbathing in peace and privacy away from crowds.
The area around Hull Bay is also home to several shops selling local food and souvenirs, so don't forget your wallet before heading out!
In A Nutshell
Whether you're looking for a crowd-free escape or some unforgettable family memories, this beautiful island has something for everyone! From busy Magen's Bay beach with its wide range of activities to quieter spots like Coki Point, where you can catch glimpses of sea turtles nesting, there's no shortage of stunning places waiting to be discovered on your St. Thomas tour.
In case you are searching for taxi services in St. Thomas, we are at your service! From air conditioning facility to comfortable seating, JS Miller Taxi and Tours make your tour an amazing experience.
Back To Blog