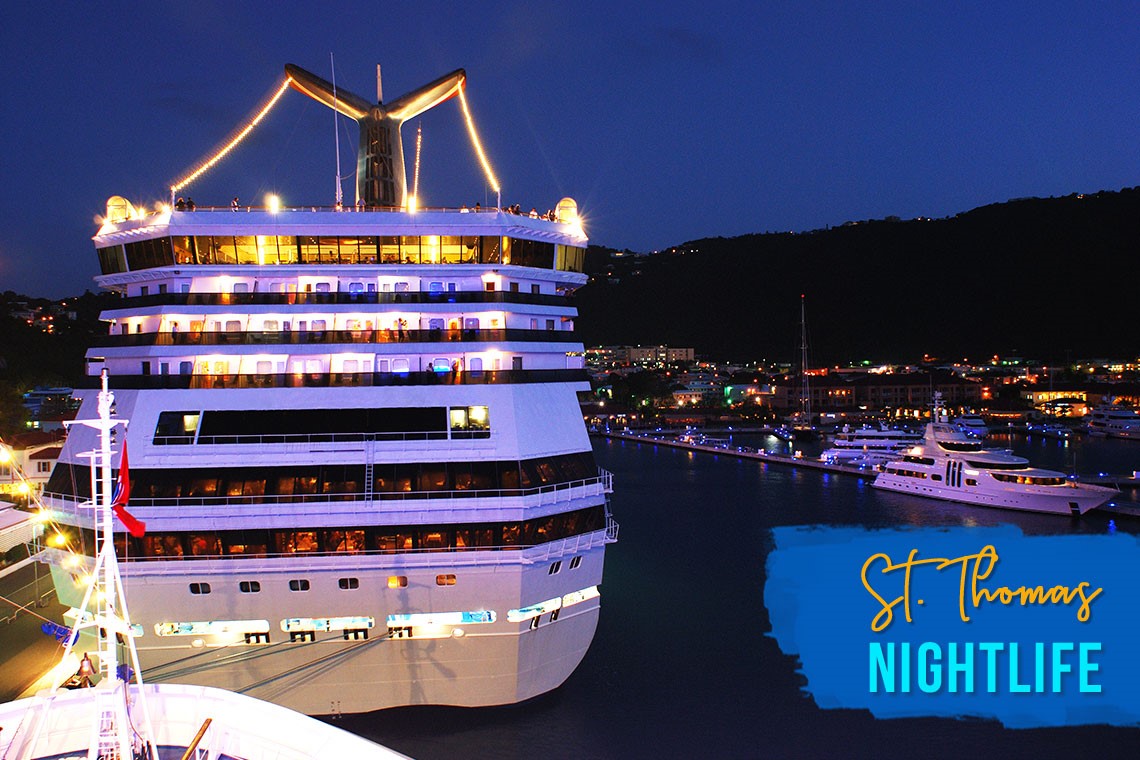 Explore St. Thomas Nightlife
St. Thomas Island in the U.S. Virgin is a beautiful Caribbean paradise, and its nightlife is no exception! This beautiful island is a great place to explore during the day, but the real fun begins when the sun goes down. With top-notch restaurants, bustling nightclubs, and plenty of beach bars, St. Thomas nightlife has something for everyone.
Let's learn more about this Caribbean paradise and its vibrant nightlife scene on your St. Thomas tour.
1.
Sunset Cruises – St. Thomas Tour
The best way to start your night is with a sunset cruise around St. Thomas' picturesque harbor. Several different companies offer sunset cruises, and each offers something unique. Some boats feature open decks with great views of the harbor, while others provide a more intimate setting with bar service and private cabins for couples.
No matter which option you choose, a sunset cruise is guaranteed to be an unforgettable experience!
2.
Beach Bars
Once the sun sets and the stars come out, head over to one of St. Thomas' many beach bars for drinks. Enjoy a conversation with locals and tourists or have quality me time.
Some bars even have live entertainment or DJ nights so that you can party the night away under the stars! And if you get hungry during your evening outing, most beach bars offer a simple yet delicious menu. They offer items like burgers, fries, or fish tacos—perfect for a late-night snack after a few drinks!
3.
Nightclubs & Dance Clubs
For those looking for a more conventional clubbing experience, there are plenty of nightclubs and dance clubs in St. Thomas. You will have many options to show off your moves on the dance floor until sunrise.
These clubs typically feature multiple rooms playing various genres of music as well as full bar service. So that partygoers don't have to worry about leaving their seats too often throughout the night.
4.
Exploring Local Cuisine
St. Thomas offers a variety of local cuisine for those who want to explore beyond the typical bar food offerings! An upscale dining experience or just a quick bite, you will find plenty of restaurants throughout the island serving delicious dishes influenced by Caribbean and American flavors.
Try to take advantage of all that delicious local food while exploring the nightlife on your St. Thomas tour—this makes this Caribbean so unique!
Safety Note: When exploring the nightlife scene on St. Thomas, safety should always be your top priority! Be sure to avoid walking alone after dark and stick with friends. Especially when visiting unfamiliar locations or venues at night.
Being aware & alert of your surroundings is always important!
In A Nutshell
St. Thomas is an amazing destination for anyone looking for a wild nightlife experience! From high-end restaurants and bustling nightclubs to laid-back beach bars and live music venues, there's something here for everyone! You will be sure to have a memorable night out on this beautiful Caribbean island.
In case you are searching for a private taxi, we are at your service! From air conditioning facility to comfortable seating, JS Miller Taxi and Tours make your St. Thomas tour a world-class experience.
Safe Travels!
Back To Blog