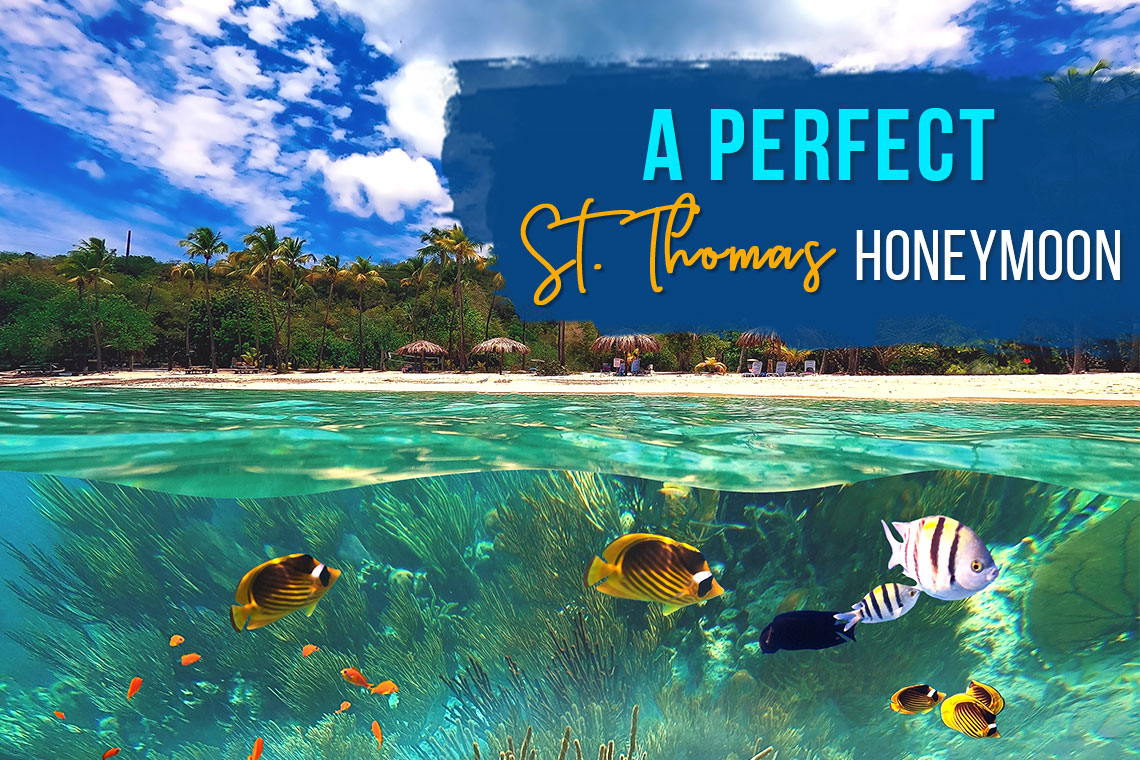 Plan A Perfect St. Thomas Honeymoon
Congratulations on starting a new phase of your life!
So, where are you planning to go for your honeymoon? If you're considering a breathtaking honeymoon destination, look no further than St. Thomas in the US Virgin Islands.
With its white sand beaches, turquoise waters, Caribbean vibes, and fantastic accommodations, a St. Thomas tour can be your perfect option to relax and celebrate your new married life.
But if you are not sure of your list to do on tour, keep reading this guide for the perfect honeymoon itinerary.
Day 1: Explore Downtown Charlotte Amalie
After booking your taxi service in St. Thomas, head to Bluebeard's Castle Resort for check-in to drop off your luggage. Then, it's time to explore! Start by driving to Fort Christian, a historic fort that dates back to 1672, for panoramic views of Charlotte Amalie harbor. Charlotte Amalie is St. Thomas Island's capital and home to Cypress Airport.
Stroll along the waterfront of Main Street, where you'll find duty-free shops selling jewelry, watches, drinks, and more. Be sure to visit one of the bars or cafés along the way for a refreshing cocktail or a quick bite. In the evening, drive back to Bluebeard's Castle Resort for dinner at one of their five on-site restaurants before heading to bed early—you have a big day ahead tomorrow!
Day 2: Become One With Nature
Wake up early and head down to Magens Bay Beach, widely taken as one of the world's most beautiful and relaxing beaches. You can scuba dive here and spend the morning swimming, sunbathing, and enjoying views of St. John island before grabbing lunch at the on-site café.
In the afternoon, visit Coral World Ocean Park, where you can snorkel with sea turtles among vibrant coral reefs teeming with tropical fish. After working up an appetite for exploring Coral World, drive into Charlotte Amalie for dinner at Havana Blue—a spot known for its fresh seafood dishes and killer mojitos. Wrap up your night with a romantic walk back to your hotel room hand-in-hand with your spouse.
Day 3: A Relaxing Day
Today is all about relaxation! When you're finally ready to start your day, order breakfast in bed before spending some quality time lounging by the pool with a good book (or taking a dip in the crystal clear water).
Late morning/early afternoon is the perfect time to schedule a couple's massage at Spa Bleu. After working out all those knots, it'll be time for another beach day! Head back to Magens Bay Beach for more swimming and enjoying that post-massage feeling before treating yourself to dinner at Coconut Cove Caribbean Grill & Bar—one of St. Thomas' best casual dining spots.
In A Nutshell
There you have it—a foolproof guide to planning the perfect St. Thomas honeymoon! From stunning beaches and crystal clear waters to historic landmarks and world-class dining options, this little slice of paradise has it all.
So in case you are searching for a private taxi, we are at your service! JS Miller Taxi and Tours make your St. Thomas tour a world-class experience with its top-class service and comfortable seating.
Back To Blog