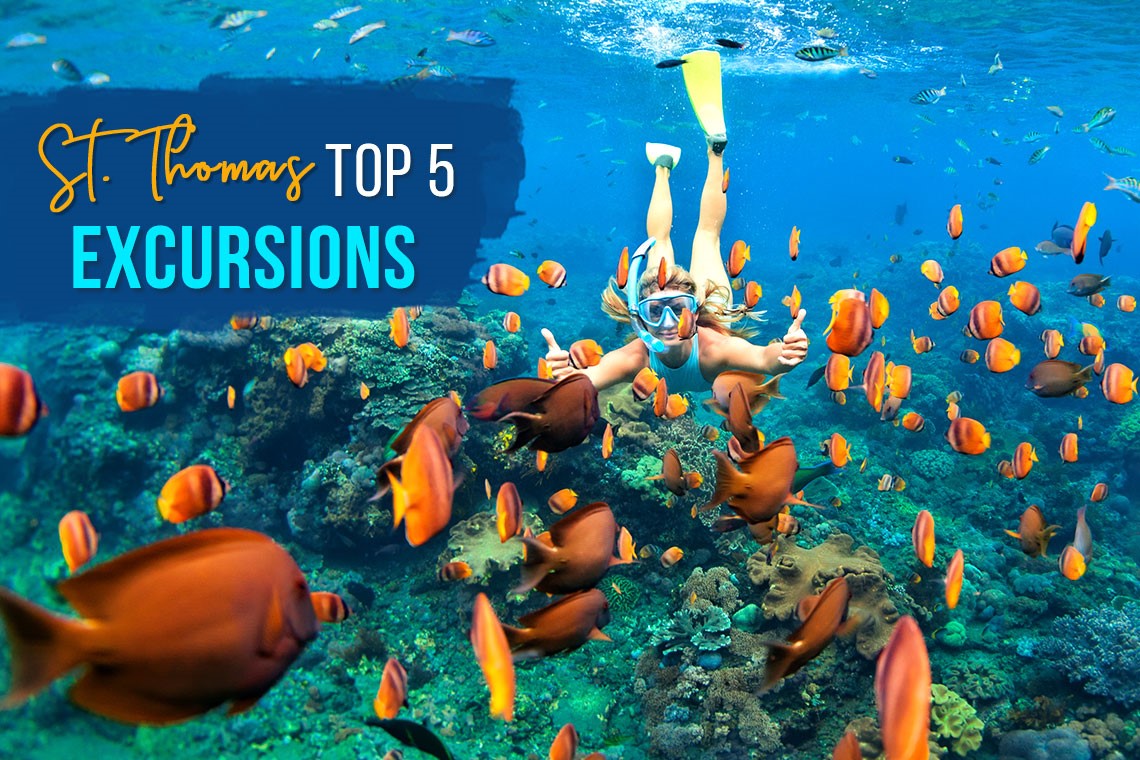 St. Thomas Top 5 Excursions
Situated in the Caribbean, St. Thomas island offers a ton of tropical delights. Known primarily for its pristine blue water, adrenaline-filled activities, and scenic viewpoints, St. Thomas has something for everyone. And what better way to experience all this at once than by booking an all-inclusive st. Thomas tour?
However, if this is your first visit to this "paradise at sea," your visit might somewhat be overwhelming, given its abundance of activities and tourist attractions.
Well, lucky for you! We've sorted out a list of several St. Thomas excursions that are totally worth your money!
That being said, let's check out some of the top ones!
St. Thomas Tours & Excursions – The Top Picks
1. Explore The Lively Town Of Charlotte Amalie
Charlotte Amalie – the capital city and the center of commercial activity is the ideal place to begin your journey after docking in St. Thomas. Stroll around the town's beautiful streets while embarking on a duty-free shopping spree purchasing souvenirs, specialty items, spirits, and more. Learn about the island's past at historical sites like Fort Christian, 99 steps, the Seven Arches Museum, etc. And if you're passionate about food, taste the culinary delights of St. Thomas on the historic Main Street food tour.
2. Kayaking & Snorkel Adventure
With this St. Thomas Eco Excursion, you'll get to experience the best of both worlds! Go kayaking and explore the mangrove lagoon of Cas Cay, a unique ecosystem full of local wildlife like hermit crabs. Then, put on your snorkeling kit and go on an underwater journey in this tropical paradise, where colorful corals are home to a variety of sea creatures like stingrays and beautiful marine life. And if you're feeling extra adventurous, go for a paddle board ride across one of the cay's sandy bluffs for unforgettable views - just be sure to watch out for the waves!
3. Go Ziplining
For all those adrenaline junkies that visit St. Thomas, going ziplining is an exhilarating experience that'll get your heart racing. Experience the beauty of nature at full speed as you fly through the air, surrounded by lush vegetation and sparkling turquoise waters. Ziplining in St. Thomas offers an unforgettable adventure that will make you want to come back for more!
4. Get Some Underwater Experience Through Scuba Diving
For visitors who have never gone diving, here is their opportunity to feel the excitement of being underwater and seeing live marine life. What's great is that a PADI-certified instructor is with you at all times. You only need to don your equipment and head down into the sea, where you'll observe tropical fish, beautiful reefs, and other sea creatures.
5. Sunset Boat Cruise
If you're looking for an unforgettable evening in St. Thomas, then the Sunset Boat Cruise is just what you need! Sail away with your friends and family floating over the clear waters of St. Thomas in a beautiful catamaran while you watch the sun melt into the horizon. As you soak up all that beauty, sip on delicious cocktails and appetizers, creating a delightful moment that will stay with you forever!
To Conclude
As you can see, with its stunning natural beauty and a whole list of activities, it's easy to see why St. Thomas is called a "paradise on earth." If you want to explore and experience all that St. Thomas has to offer, then reach out to us at JSMiller Taxi and Tours so that you have the best possible time on the island.
Back To Blog