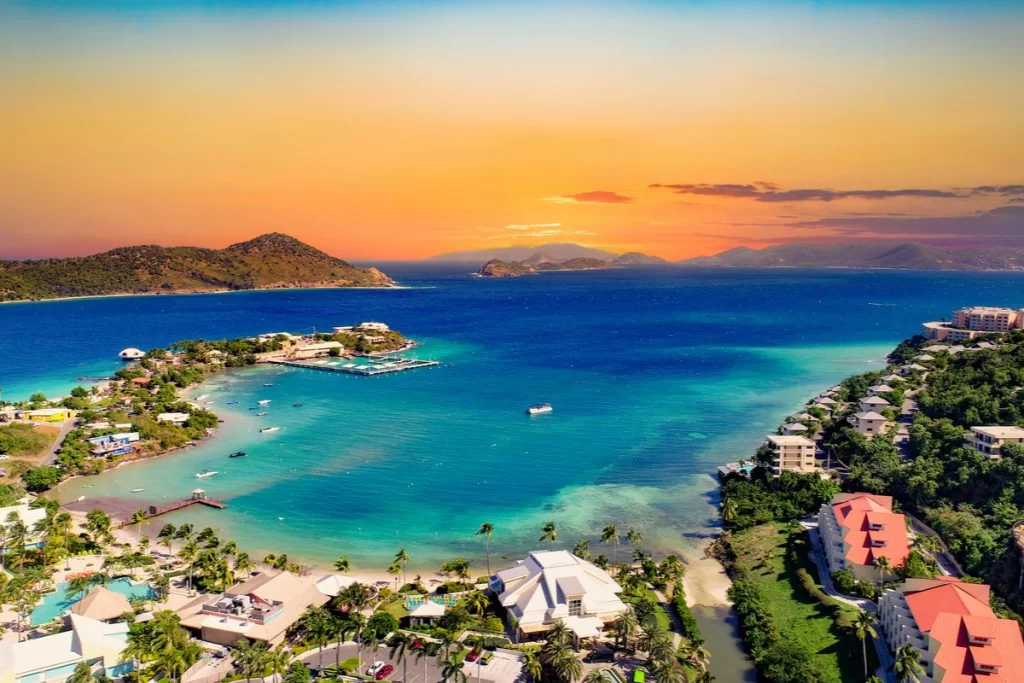 THE LAY OF THE LAND
As a top travel service around St. Thomas island, we've seen it all. We've used that knowledge to put together the best service for itineraries and day trips around the island that you won't soon forget. Here are some of the areas we tour regularly.
Charlotte Amalie
Down by the water there is the thriving town of Charlotte Amalie, famous for its beautiful red roofs and aesthetic design and a bustling part of St. Thomas island. We can guide you around the best landmarks in an easy and convenient way, with luxury vehicles that help you to parade around in style.
Up in the Hills
Further up the hills of St. Thomas, some landmarks give you those particular views of the cove and surrounding areas that you'll definitely want in your phone or camera when you leave.
Getting a little altitude allows you to see the panoramic views that people love about this island paradise!
Piers and Skiffs
Here's another part of the island that you want to explore – dozens of little jetties and outcroppings house private piers and small boats, and represent their own small ecosystems within the island's geography.
You want to get some shots of these, too, because they're very different island views than you would get from the above locations.
Untrammeled Beauty
When you're down in Charlotte Amalie with all of that traffic, you wouldn't think of it, but you don't have to travel too far to be out in areas where there aren't any people at all!
When you see shots of empty beaches and beautiful coastline looking like it's frozen in time, you are seeing these wilderness areas of the island where there is not the kind of development that you expect when you land in the island's capital city.
Take a look at these and much more…

Why are we able to carry you around in style and comfort? Because we invest in those top-class aspects of travel that make your journey great. From adequate air conditioning and climate control to comfortable seating and more, we make your St. Thomas trip a world-class experience in more ways than one. You can look back in the blog to see a lot of the detailed aspects of how we create these unique journeys, and the experience of our people and what they bring to the table. It's that sense of local knowledge along with dedication to customer service and customer experience that makes these St. Thomas trips all they can be!
Back To Blog