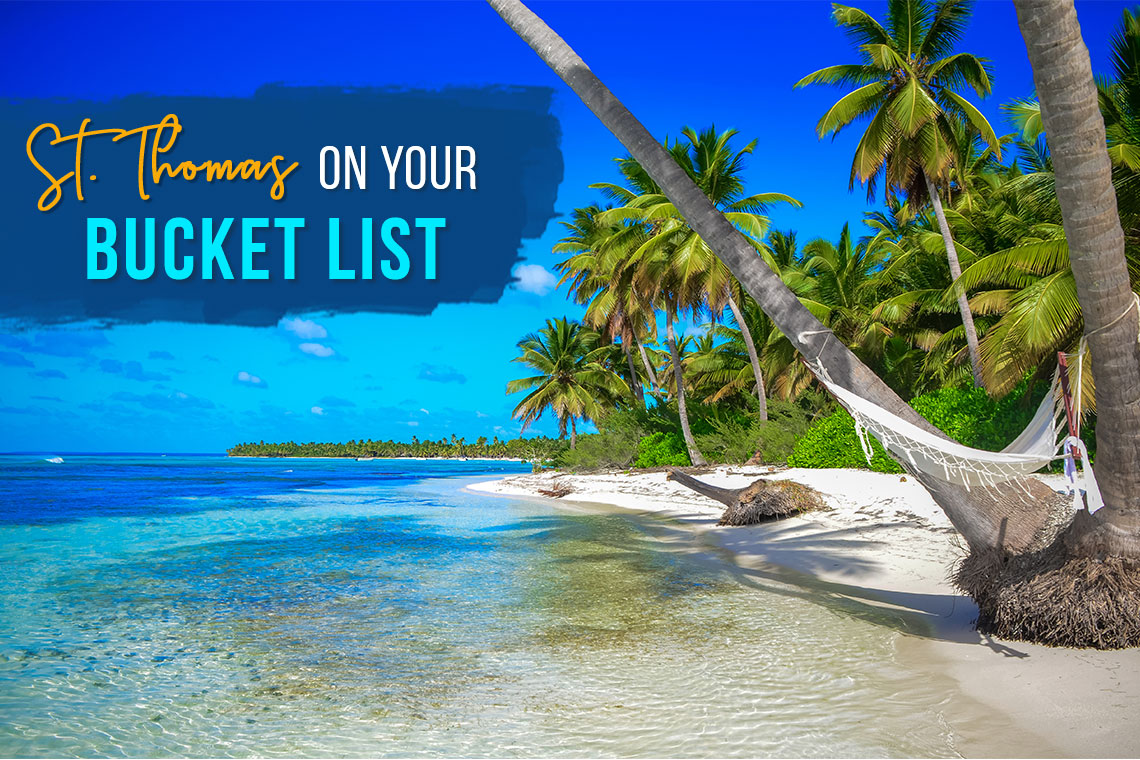 St. Thomas | Why Should It Be On Your Bucket List
As we move into the Fall season, many of us dream about escaping the cold, dark winter months ahead. And for a good reason - the sun-soaked beaches, clear blue waves, and swaying palm trees of far-off locales are indeed a sight to look forward to.
You can find lots of beautiful landmarks around the world. But one such destination that is truly special is St. Thomas in U.S. Virgin Islands. This place offers the perfect escape from everyday life with its crystal clear waters and dreamy sandy beaches.
Here are just a few reasons why this beautiful island should be on your bucket list:
1.
St. Thomas Tour – White Sand Beaches
St. Thomas is renowned for its stunning natural beauty, with dazzling white sand beaches and clear turquoise waters that are unmatched anywhere else in the world. Whether you're lounging under a beach umbrella or kicking back with some snorkeling gear, there's no denying that St. Thomas offers some truly breathtaking vistas.
2.
The Fascinating Local Culture
With its rich history and diverse culture, St. Thomas also boasts a fascinating local culture that captivates visitors of all ages and interests. From delicious restaurants serving traditional Caribbean fare to vibrant festivals celebrating local art and music traditions, St Thomas offers an authentic glimpse into the deep heart of the Caribbean community.
3.
Unlimited Activities To Enjoy
The crystal clear waters of St. Thomas are the perfect setting for all kinds of adventures, from swimming and snorkeling to scuba diving. You can paddle through its pristine reef formations, exploring everything from sea turtles to colorful coral. Or you can venture beneath the waves, exploring the myriad shipwrecks that pepper these azure waters and uncovering lost treasures long forgotten on the ocean floor. No matter what your interests or level of experience may be, everyone can perform plenty of exciting activities on their St. Thomas tours.
4.
A Lively Nightlife
When it comes to luxury accommodations, St. Thomas is truly second to none. Offering everything from lavish beachfront villas to intimate boutique hotels and elegant resorts, there is something for every discerning traveler.
For those who want to party all night long, St. Thomas has a vibrant nightlife scene that will satisfy even the most demanding clubber. This island truly has everything from swanky rooftop lounges to pulsing dance clubs!
5.
Gourmet Cuisine
Whether you're looking for a casual seaside meal at one of the many beach shacks lining the coast, or an unforgettable culinary experience at one of the world-class restaurants in town, you can always find exactly what you're craving on this beautiful island.
With fresh local seafood dishes and innovative international cuisine, there's no end to the amazing dining experiences you'll find here in St. Thomas.
In A Nutshell
So if you're dreaming of spending lazy winter days lounging on sandy beaches or epic adventures exploring uncharted wilderness under sunny blue skies - look no further than St. Thomas as your ultimate tropical travel destination. With its sheer beauty and endless potential for fun and entertainment, it truly has something for everyone to love!
In case you are searching for a private taxi, we are at your service! From air conditioning facility to comfortable seating, JS Miller Taxi and Tours make your St. Thomas tour a world-class experience.
Back To Blog